Ethels Dog World Photo Page, Created by Mike Pugh Photography
Dog show, Ethel Luke-Pugh Master Groomer in the show ring, and Grooming clients.
The photos shown here are Past Clients , Past Dog shows and Past Vacations with the dogs, we hope you enjoy it and look forward to hearing from you in our guest book area.
Ethel and Moses the Whippit comming soon
Relax and clear your mind.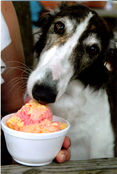 Above shows ""Windy"" Porcelain Dusha Briz Championed 2007
Strong Arms embraces the love of a best friend, Cameo our show Greyhound.